Take A Chance For Education
Friends of the Fox River is raffling off this beautiful, lightly used, Old Town Camper 15′ canoe with 2 matching Bending Branches Beavertail paddles, and 2 matching LL Bean lifejackets.
This complete paddling package is perfect for paddling the Fox River and small lakes.
All proceeds from the raffle support our year round environmental education program for schools and the general public.
Raffle tickets are $10. On-line raffle ticket sales will end on Monday, August 9, 2021 at 5 p.m.
The canoe with 2 paddles and 2 lifejackets, are the only raffle prize. The winning raffle ticket will be chosen live at Bandito Barney's Beach Club and Bordello in East Dundee at our annual "No Clean Water, No Good Beer" fundraiser on Monday, August 9, 2020 at 8:30 p.m. Tickets may be purchased below.
Creating a Watershed of Caretakers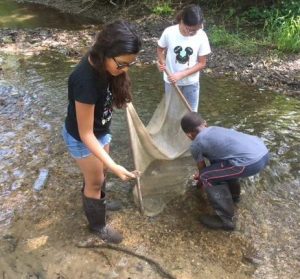 Friends of the Fox River (FOFR) fulfills the most important part of our mission: education, through our unique experiential streams education courses. For the last several years, our outreach educators have been putting up to 5,000 students in boots to stand in a stream near their school. They learn to make physical, chemical and biological measurements to determine water quality and health of that tributary to the Fox River. Students learn about the life of that stream. They come to understand how every stream and river supports a web of life.
Now the demand for this hands-on, science learning about the student's local environment is growing and we need your help to meet it.
Our Challenge
Our unique outdoor, in-stream, education program is limited by weather to two months in the fall and two months in the spring of each school year. This results in short term employment for our educators. It takes FOFR considerable effort to find enough qualified environmental educators willing to accept short term employment, and return.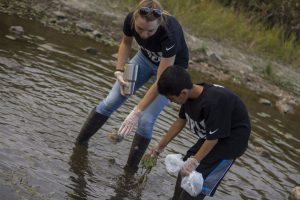 Our Solution
Our solution is to develop sufficient funding to employ one full-time lead educator. This will provide stable management for our outreach educators, expand our water quality science education program to work with schools throughout the school year, and develop environmental weekend and summer programs for children, families, and adults.
You Can Help!
Help us build a stable, well trained staff experienced in the unique water quality science education programs we've developed over the last thirty years. Retaining an educator throughout the school year will significantly expand the number of students we serve. These students will learn the critical knowledge we teach about the natural world, our ecosystem, and the Fox River's watershed and waterways.
Here's The Deal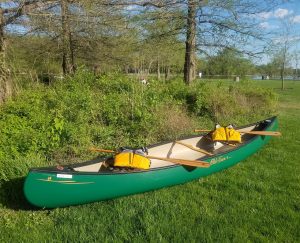 * The raffle prize canoe with paddles and lifejackets, worth $750, is the only prize in the raffle.
* A maximum of 1,000 tickets will be sold.
* The winning raffle ticket and two alternative winning tickets will be chosen at our annual "No Clean Water No Good Beer" FUNdraiser at Bandito Barney's Beach Club in East Dundee on Monday, August 10, 2020 at 8 pm.
* You need not be present to win.
Take a chance to win this complete canoe package. Help us teach our children well.
Official Raffle Rules
By purchasing a raffle ticket, you are agreeing to the official rules of this raffle. Please read the official Raffle Rules HERE.
Buying Tickets
Raffle tickets are $10. Click the "+" button below to order the number of tickets you want, then click the blue "Get Tickets" button.
Check your order in your Cart and click the "Proceed to Checkout" button.
Fill in your information to complete your order. Click the "Proceed to PayPal" button. You DO NOT need a Paypal account, you can pay with a credit card.