Elgin to Host Pumpkin Composting Event
November 2, 2019 @ 9:00 am

-

12:00 pm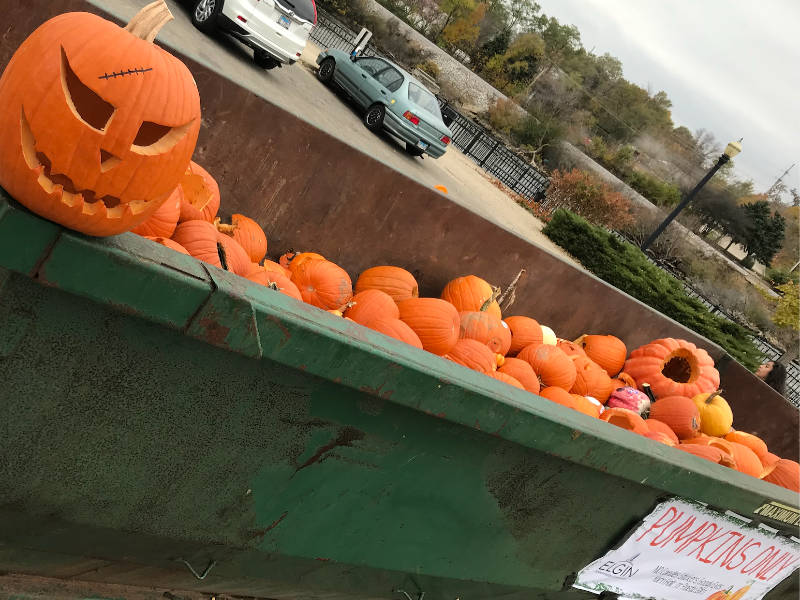 The City of Elgin will offer residents an opportunity to compost their pumpkins with a collection event on Saturday, November 2, from 9:00 a.m. to 12:00 p.m. in the parking lot located at the southwest corner of Grove Avenue and Kimball Street in Elgin.
Elgin is among many communities participating in the free, one-day annual collection event. This is the fourth pumpkin collection event for Elgin. Each year, the Elgin Sustainability Commission has sponsored the event to help educate attendees on the value of composting. In 2018, 3.72 tons of pumpkins were collected at the event, up from 2.96 tons in 2017 and 0.87 tons in 2016.
"This event is important not only for the environmental impact of keeping pumpkins out of the landfill but also as an opportunity for folks to learn about composting in general," said Elgin Sustainability Commission Chair Tia Aagesen, who also is also a member of the Commission's Waste Work Group. "Reduction in all waste streams is a vital part of our sustainability action plan; we aim to engage citizens in creating everyday, sustainable habits like composting to meet those goals. Every bit helps."
Volunteers will be available to help transfer pumpkins from vehicles to the collection container. Participants also have the option to smash their pumpkins. Pumpkins and other gourds will be accepted, and all decorations and candles must be removed.
New this year, the Downtown Neighborhood Association of Elgin (DNA) is teaming up with the City to bring food vendors to the event. Bida Baking and Cafe Revive will on site selling baked goods and warm drinks. Seating will also be provided for those wishing to enjoy a snack. The DNA will be available to provide attendees with downtown Elgin information.
The City of Elgin Sustainability Commission is hosting the event in cooperation with Waste Management, the Downtown Neighborhood Association of Elgin, SCARCE (School & Community Assistance for Recycling & Composting Education) and Kane County Recycling. The event is part of a collaborative effort across communities to both keep pumpkins out of landfills and also educate residents on the benefits of composting.
According to SCARCE's website, there are several reasons to keep pumpkins out of the landfill.
They are full of nutrients that are good for the soil
They are 90% water
Most of the pumpkins processed in the US are grown in Illinois – keep the water and nutrients here
Decomposing organics make landfills the third largest producers of methane
Composting returns nutrients and water back to the earth