Green Drinks McHenry County – Just One Backyard: One Man's Search for Food Sustainability
February 6 @ 5:00 pm

-

7:00 pm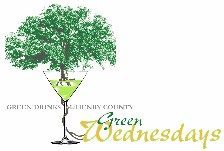 On the first Wednesday of each month, environmentally minded people gather upstairs at Duke's Alehouse & Kitchen to network and talk about sustainable programs and "greening" the future. Everyone is welcome to attend.
BIO: Dr. John Zahina-Ramos has been featured on the PBS series Victory Garden's Edible Feast and is an award-winning author of two books on food sustainability. Dr. Z has taught at Loyola University Chicago and Palm Beach State College on the topics of environmental sustainability, sustainable agriculture and environmental issues. He is an avid backyard food grower and founded the Just One Backyard Web Resource (listed below) to promote the practice of sustainable food growing.
TALK SUMMARY:  Dr. Z will present an entertaining and enlightening tale of how he turned his entire urban residential backyard into a food garden and measured the many benefits it provided. For over 5 years, he collected data on the economic, environmental and social imortance of this one backyard to his household, his community and beyond. The results from his efforts are inspirational and empowering. Truly, just one backyard can make all the difference in the world!