by Gary Mechanic, Executive Director
The Fox River has come a long way from the days when it was the most used and abused river in Illinois.
An 1908 monograph describes the Fox River: "… the tributaries often bring large amounts of sediment, and various manufactories along the river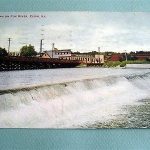 discharge a large amount of refuse into the stream, and it has, of late years, become so foul that nearly all fish except carp and other filth-enduring species have been drowned out."
A 1914-15 survey of the river by the Illinois Rivers and Lakes Commission concludes, "Now it is in low summer flow a dirty, evil smelling waterway near the cities."
In 1999 the Fox River was named by American Rivers as one of the most endangered rivers in the U.S (see the report at the bottom of this page).
Now, with the removal of some dams, improved water quality and increased public access, more fish, birds and people have come back to the Fox. So we think it's a good time to recognize the progress that's been made, and celebrate our collective success in making the river cleaner and healthier.
Love Our River Days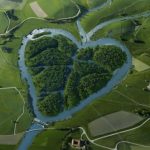 Friends of the Fox River announces our new "Love Our River Days", an annual series of river cleanups and community celebrations with music, food, contests, a riverside cleanup and fun for all ages.
The public and local community groups are invited to these free events. Cleanup volunteers (individuals and organizations) must register to receive a free lunch, and other gifts and benefits.
Please fill out the form at the bottom of this page to volunteer.
2019 Love Our River SPRING CLEANINGS
Please use the form at the bottom of this page to register as a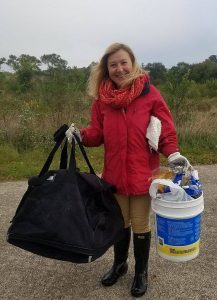 volunteer.
Saturday, April 13, 8am – 12pm in Aurora – Volunteer now to help cleanup as Friends of the Fox River supports the Aurora Kiwanis Club's "One Day" Cleanup.
Saturday, May 11, 9am – 12pm in Batavia – Co-sponsored with the City of Batavia. Meet at the Blackard Skate-park (east side of Rt. 25 1/3 mile south of Wilson St.)
Saturday, May 18, 9am – 12pm in Elgin – Co-sponsored with Illinois Rep. Anna Moeller. Meet at the west end of Ann St. on the north side of the Gail Borden Library
Fill out the form below to volunteer for a clean up.
Reducing the Fox River's Annual "Litter Load"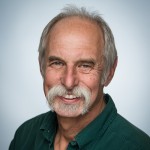 "We are all friends of our Fox River. Friends help each other in in hard times, and celebrate with them in good times." says President Gary Swick. "Helping to heal our river by removing trash is important. This year, we are inviting community organizations and residents to join us in several riverside celebrations of our community's most important resource."
For many years Friends of the Fox River has coordinated river cleanups with towns, fire and police departments and other community groups from Algonquin to Yorkville. It's tough to cleanup in the winter cold or summer heat, so we typically run our cleanups in the spring and fall. And while spring high water or floods can delay spring cleanups, collecting the trash accumulated over the winter, before the warm weather and crowds arrive, are usually the most effective and productive.
With the prevailing winds from the west, litter will always blow into the Fox River. But if all we do is pick up litter every year, we'll be picking up litter forever. Some of the litter in, and along the river, is eliminate-able. To reduce the annual litter load, we're recruiting data collectors to work with cleanup volunteers to record what is picked up and where it's picked up. Smartphones and data collection apps make this an easy and fun task. Analyzing the data will identify litter hot spots, the amounts of various types of litter and perhaps even the sources of some kinds of litter. Our goal now is not just to cleanup the river, but to reduce or eliminate those type of litter that can be tracked back to a specific source or location.
So SAVE THE DATE(S) and plan to join us at a "Love Our River Day" event.
TO REGISTER as a Love Our River Day Cleanup Volunteer or litter reduction Data Collector (you'll need a smartphone) or just help out as an Event Volunteer, please fill out the form below.
Fox River named Most Endangered by American Rivers – 1999 Report
2018 SPRING CLEANINGS
Saturday, May 12, in Elgin – CANCELLED DUE TO BAD WEATHER!
Meet at the west end of Ann St. on the north side of the Gail Borden Library
Saturday, May 19, in Batavia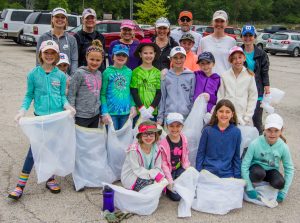 Saturday, June 2, in Yorkville
2018 FALL CLEANUPS
Saturday, September 15, 2018 "It's Our River Day" in Algonquin, 1pm to 4pm in Cornish Park, 101 South Harrison Street, Algonquin, IL (map)
Sunday, September 30, 2018 – Clean Up in Geneva, 9am – 12 noon in Fabyan Woods Forest Preserve
Saturday, October 13, 2018 – Clean Up in Elgin, 9am – 12 noon