By Jenni Schiavone
Meet Don Purn, our Featured Friend for this month. Don has spearheaded the Schweitzer Woods Bee Sanctuary, a large native pollinator garden at the Schweitzer Environmental Center, headquarters of the Friends of the Fox River. He has devoted thousands of personal volunteer hours and funds to support it and the human structures on the Schweitzer Environmental Center property.
Seeds of Inspiration
The Schweitzer Woods Bee Sanctuary is a 240 square foot pollinator garden plugged with over 1000 native plants representing over 30 species of grasses, shrubs, and forbs. Plants and materials for the project were partially funded through Microsoft's Community Challenge via the ChangeX platform for a Pollinator Partnership, in addition to other individual donations. Since its inception, Don has been involved with planning, design, installation, maintenance (think of all the watering needed for a new large garden during drought conditions!), and the detailed documentation of the garden's biological activity.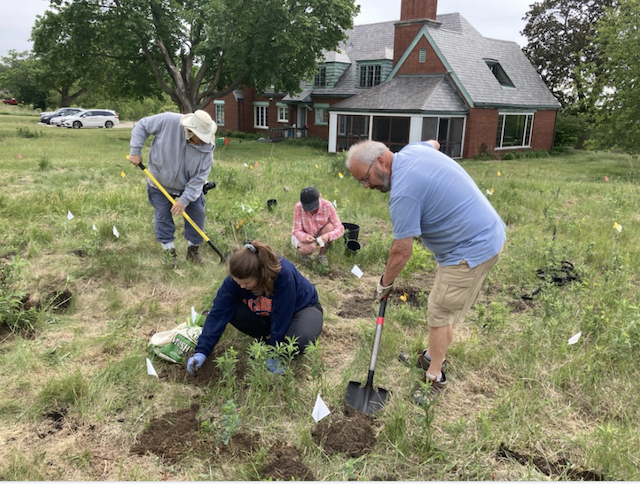 Don is also a hobbyist photographer and his favorite photo subjects are insects.  Incredible shots (like the bee and butterfly sharing a snack above) of over 380 species of insects have been recorded at Schweitzer Woods.  These photographs and accompanying lesson material are being used as part of Friends of the Fox River's Watershed Academy educational programming. Lesson planning is no new feat for Don; he taught several science courses during his 36 years as teacher in Algonquin and the Philippines.

Humble Blooms
When asked to pose for a photo by the sign he created, inside the Bee Sanctuary he spearheaded, next to a pile of tools that he had been using that day, Don's single request about the content of this article was that all of the individuals that contributed to the project be properly recognized for their efforts too. Thank you to these groups and individuals that volunteer: Dundee Township Rotary, Friends of the Fox River Board, staff and volunteers, Schweitzer Environmental Center volunteers, Dundee Township Open Space staff, Clarke Environmental Company volunteers, and Green Guerrilla Eco-friendly Land Management staff. And thanks to Chris Kious, President, and Patrick Chess of the Kane County Forest Preserve District for their guidance and support.
Rooted in History
Don Purn is certainly leading the way by taking ownership of his local environment. The Schweitzer Woods Bee Sanctuary is the next chapter in an ongoing tale that began when Emily Schweitzer, the original property owner, bequeathed her entire 160 acre estate to the Kane County Forest Preserve District in 1989. Emily's legacy as a preservationist underscores the continued environmental efforts on the property. The "take ownership" story of the Schweitzer Woods Bee Sanctuary continues to write itself when each and every native flower blooms and buzzing pollinators feed or take shelter in the habitat that Don and many others are continually restoring. Plan a visit to the Bee Sanctuary and all of Schweitzer Woods and experience biodiversity in action. Be sure to take time to enjoy the serenity of the surroundings and feel the living history of the property. And, if you want to meet Don in person, he will probably already be out there – working, stopping only to snap a great photo. Thank you Don Purn, for being a Friend of the Fox River.
If you have a "take ownership" story, please share it with us at info@friendsofthefoxriver.org