By Art Malm, FOTFR Board Member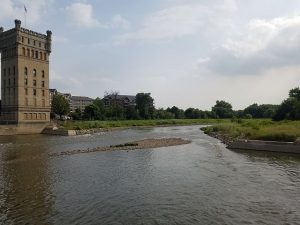 Maybe the first question asked by almost anyone considering dam removal is "what will it look like?". There aren't many people left in the Fox Valley who remember what the Fox looked like before the dams were built. Doubtful their grandparents did either.
The best way to know what the Fox might look like after dam removal and restoration would be to look at a nearby location where a similar dam was removed from a similar river. No two rivers are ever the same but with a view of the nearby experience in Lyons, IL (near Brookfield Zoo) we can gain a pretty good idea.
To see what the Hofmann Dam area looks like six years after it's removal scroll through the slide show below.
[gview file="https://friendsofthefoxriver.org/wp-content/uploads/2018/09/Dam-Removal.pdf"]