Help us make this FUNdraiser an over-the-top success!
Local businesses support Friends of the Fox River because the FOX RIVER is a public water drinking source, our most exceptional recreational resource, and clean water equals great beer! Our special friends, including favorite local businesses, are pitching in to make this FUNdraiser AN over-the-top success.
No Clean Water No Good Beer speaks to our fun demeanor as we work to "keep on fixin' the Fox". In our work to protect and restore, we take the time to sample and appreciate a fun selection of beers, wines, and coffees. Guests will also enjoy grazing selections all night including a new hot hors d'oeuvres hour this year.
That sets the stage for the real fun, shopping! Many generous Friends and local businesses have offered a wide array of items that are exceptional gifts for yourself or to share with others. Toss raffle tickets in an associated bin to what you find interesting or bid on the grander prizes in silent auction style.
According to our ace donation-getting volunteer Gary Swick, we've had very positive responses from locals. One biz said,"We'd love to contribute because Friends of the Fox River does so many wonderful things for our town."
It is not to late to donate. Please contact us if you would like your business to be included in this great event. Or, do you want to just join the fun, drink great beer and try your luck in the silent auctions? Get your tickets now, while supplies last. There is something for everyone, take a peek at this partial list.
This silent auction item has a value of over $1200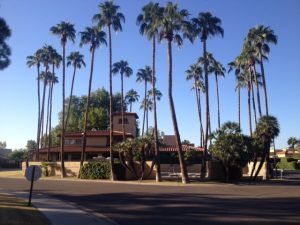 A spectacular return donor is offering a 7-Day Getaway at her fabulous Phoenix, Arizona condo, available from May 1st to December 31st, 2023.
The 2-bedroom, 2 bath condo is in a quiet, gated property with a swimming pool, and sleeps up to 8 people comfortably. Convenient to major highways and popular attractions, including the Grand Canyon, the historic downtown district, and Desert Botanic Garden with their unique flashlight tours.
Elgin Symphony Orchestra tickets
If symphony tickets are music to your ears, we have a 2-person voucher for renowned Elgin Symphony Orchestra performances. Enjoy an evening of beautiful music with your Elgin Symphony Orchestra! This package includes two 'gold level' tickets to an ESO concert at the Hemmens Cultural Center during the 2022-23 season. The voucher is worth $130.
Attention Patagonia fans
Patagonia fans will love the durable gear – duffel bags, hats, and various travel packs, all made with care to animals, people and the environment.
Since 1985, Patagonia has pledged 1% of sales to the preservation and restoration of the natural environment. They have awarded over $140 million in cash and in-kind donations to domestic and international grassroots environmental groups making a difference in their local communities.
Bring Your Love for Adventure!
Enjoy recreational outdoor fun with adventures like a Glider Ride, a Guided Canoe Trip for up to 24 people, and several Kayak Trips along the beautiful Fox River.
FOUR………
Extend your summer and refine your game with 4 sensational rounds of golf – including a golf cart – at Randall Oaks Golf Club in Dundee, an incredible 18-hole championship golf course that offers you a relaxed atmosphere for a diverse range of skill levels. This primo package is worth $268.00.
But wait! There's more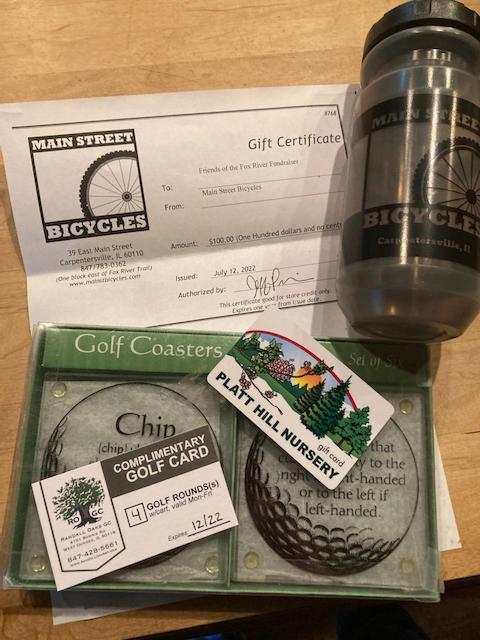 We've also received gorgeous baskets of fun, healthful, and unique products from premier spa and style salons, a local nursery, bicycle shop, antique/eclectics shop, and more!
Then there's the bevy of gift certificates and cards, from everywhere you love to stop in for a snack or a beverage at area restaurants and drinking establishments.
Of course we have admissions to nearby places to visit for adventure and excitement, like the Adler Planetarium!
So what are you waiting for?
Did we mention the fun?