1 event,
Please call to be included in this meeting 815-356-6605 and for zoom link. Board members convene to discuss upcoming events and current campaigns, our strategic plan, programs, etc. The public is welcome.
1 event,
Join Friends of the Fox River at this fun, lively family event that gets the entire family outside and moving. We'll bring our critters to help explore pond life. Kids can also participate in other activity stations: climb a tree, build a birdhouse, race their parents, do an obstacle course. 
3 events,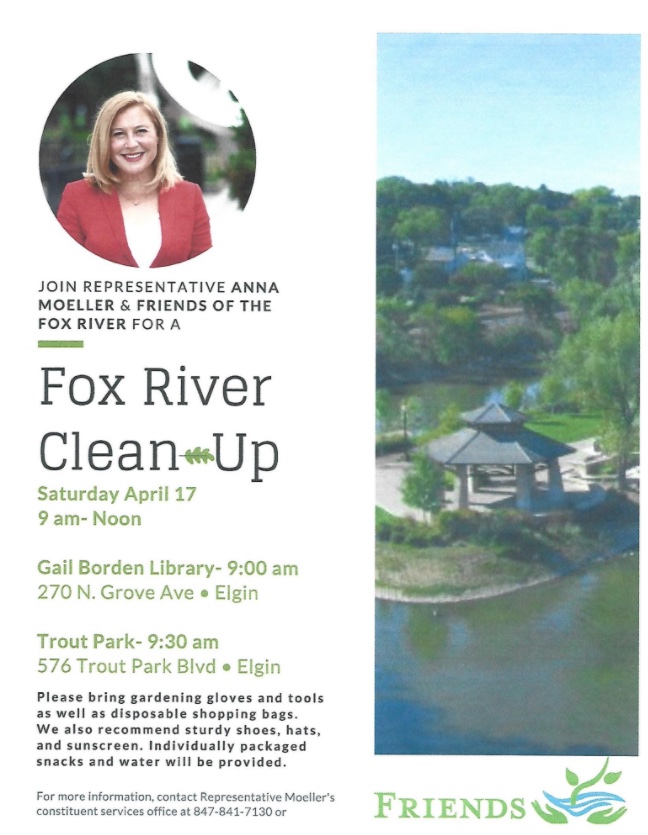 Join Friends of the Fox River at the north end of the Gail Borden Library parking lot for this year's cleanup. Dress for the day's weather forecast, and to protect yourself (long sleeves, pants, and closed toe shoes) from sun, poison ivy, and insects. Have footwear appropriate for wet and muddy conditions. If practical, please ... Read more
Friends of the Fox River joins other organizations in providing common sense solutions for Aurora & Fox River Valley! Join us at our table outside for some Fox River fun and info. ​
1 event,
Join Friends of the Fox River and the City of Batavia for this year's cleanup. Dress for the day's weather forecast, and to protect yourself (long sleeves, pants, and closed toe shoes) from sun, poison ivy, and insects. Have footwear appropriate for wet and muddy conditions. If practical, please bring gloves, small plastic shopping bags, ... Read more