By Gary Mechanic, Executive Director
The 1st It's Our Fox River Day was a successful start for an annual event despite some awful weather for a cleanup. More than 150 volunteers braved the winds, cloudy skies, and rain to pick up trash. For the first time in history, local organizers ran cleanups at eleven sites along the Fox River in Kane County on the same day. But wait. There's more!
In response to our call for creative ways to celebrate the place the Fox River has in our lives, and in our communities, a yoga teacher in
Elgin taught a "flow yoga" class by the river followed by a mini-cleanup. And one of our outreach educators ran a clean-up for the river and a "glam-up" (a beauty products demo) for her volunteers.
We invited local governments from Waukesha to Ottawa to adopt a proclamation declaring the 3rd Saturday in September "It's Our Fox River Day", and the two largest counties on the river, the two largest cities on the river, and two villages did.
An Ambitious and Achievable Goal
Baked into the founding vision, and continuing mission, of Friends of the Fox River is our conviction that a damaged river ecosystem can only be restored successfully on a watershed scale. The annual Fox River Summit, the Fabulous Fox River Water Trail, and our local environmental partners annual film night in Aurora, have been important initial steps toward a watershed-wide and river-length collaboration. Creating a river-length and watershed-wide event on a single day seems to us a logical and necessary step toward that ambitious goal.
From Conducting to Coordinating
While Friends of the Fox River (FOFR) has organized river cleanups for decades, we've only run one at a time. To create cleanups along the entire river, on the same day, would clearly take a new model for coordinated community service.
FOFR staff created a "River Cleanup Organizer's Toolkit" and offered to support local event organizers by helping with planning, permissions, insurance, publicity and volunteer recruiting. We reached out to local organizations, our environmental partners, publicized our offers of support to our 2,500+ Facebook followers, and a few Fox River heroes stepped up.
Local Organizers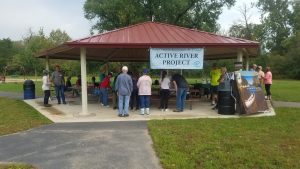 Trish Beckjord from the Conservation Foundation and the River Corridor Foundation of St. Charles organized the largest new cleanup in St. Charles. More than 40 volunteers turned out to clean up in five riverfront parks while members of the local Kiwanis Club pitched in to cut invasive buckthorn.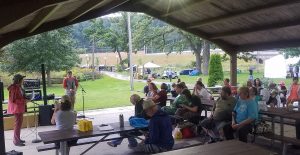 In Algonquin the Environmental Defenders of McHenry County partnered with the Village of Algonquin to produce their 12th annual river cleanup on Illinois' traditional "It's Our River Day." And in Carpentersville, Melissa Hernandez led the local Rotary Club in organizing a riverfront cleanup.
Several individuals also stepped forward to organize their own cleanups. South Elgin High School student Kristin Delaney cleaned up SEBA Park with her family, friends and support from the S. Elgin's Parks & Recreation Department. Pete Becker in Elgin organized a cleanup at Voyageur Landing. FOFR Educator and West Dundee resident Jenni Schiavone planned a clean-up followed by a "glam-up" for her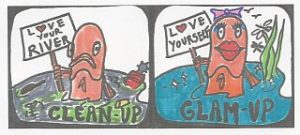 beauty products using volunteers. And Evelyn Alba of Vida Yoga and Fitness in Elgin organized a riverside yoga class and mini cleanup in Elgin's downtown.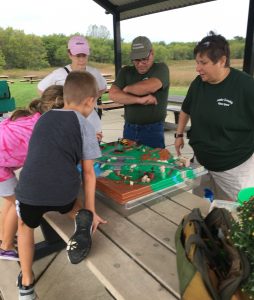 Finally, Township Supervisor Trish Glees, and Katie Meyer of Dundee Township Open Space brought some "event-diversity" to the 1st It's Our Fox River Day by organizing a water quality monitoring demonstration, nature hikes, and an interactive environmental education exhibit at the Jelkes Creek Bird Sanctuary.
A Singular Contribution
Phil Broxham of Grindstone Productions is a professional videographer and documentary producer.
Inspired by the story of "The Fox" and his legendary efforts to protect the river, Phil volunteered the tools and skills of his trade to produce a short documentary of It's Our Fox River Day. You can watch it here on YouTube.
Government Support
Friends of the Fox River reached out to the thirty-nine cities and villages on the river, and the nine counties the river passes through. We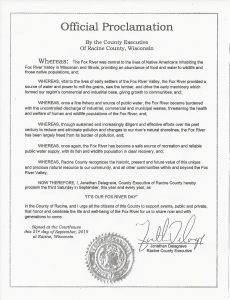 invited these key local governments to proclaim the 3rd Saturday in September "It's Our Fox River Day," and conduct or support local events that focus on the river and the role it plays in their communities.
Racine County and Kane County, the cities of Aurora and Elgin, and the villages of South Elgin and North Aurora all adopted the Proclamation. In Aurora, Mayor Irwin read the entire document during a press conference!
Local park and forest preserve districts also provided important support by providing facilities, supplies and garbage pickup. Thanks especially to Ed Bjes, Director of the South Elgin Parks and Recreation Department, and Jenny Estes at the Kane County Forest Preserve District for their support.
Thank You!
Mark your 2020 calendar now for the 2nd annual It's Our Fox River Day on Saturday, September 19, 2020.
Thank you to all the event organizers, volunteers, elected officials, and local governments who were a part of this historic event. Thank you very much for volunteering, making the river cleaner and safer, and making the 1st annual It's Our Fox River Day a success.