By Gary Swick, FOFR President
Spring emergence
During a Midwestern winter, nature is not dead but merely conserving energy. It is challenging for humans experiencing frigid temperatures and deep snow cover to understand that soon signs of life will vigorously emerge from the roots of plants and the insect eggs lying in the soil. Likewise, Friends of the Fox River (FOFR) is looking forward to emerging with great energy into a season of growth.
FOFR's Specialty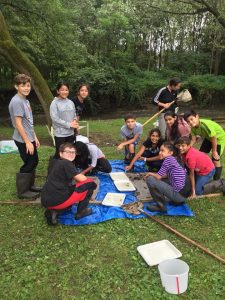 FOFR is unique among environmental organizations because our focus is on the entire Fox River Watershed and engaging students with our unique in-the-water data collection experiences.
Our grant writing team recently submitted an application requesting funding to expand FOFR's educational services. This expansion involves moving into new areas of the watershed like Kendall County, where we have had limited involvement, targeting communities of high need, like Aurora, and adding new services to schools that are already actively collecting stream data. Proposed expansion projects are: litter collection and analysis, mussels, dam removal for habitat restoration, and native landscaping. One of our new goals is to serve up to 10,000 students a year without charging a fee.
Partners in Support
The grant application required letters of support and FOFR was honored that our prospective project partner's submitted twenty-four letters! These included letters from the Illinois Department of Natural Resources, University of Illinois Extension Service, Chicago Metropolitan Area Planning Commission, Kane/DuPage and Kendall County Soil and Water Conservations Districts, Kane and McHenry County Forest/Conservation Districts, five municipalities, Kane County Regional Office of Education, three school districts, two park districts, five sister environmental not-for-profit organizations, and Elgin's Gail Borden Library.
FOFR has a reputation for offering effective environmental educational programs. Now with a viable plan for expansion, the support from these entities is evidence that this project merits investment.
Time to Grow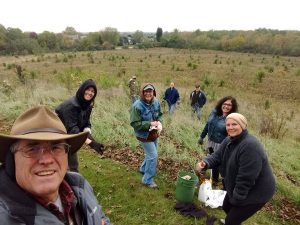 Education, both formal education in schools and informal education with the public, is the leading focus of FOFR. But that is only part of our mission. Acting as a voice for the river through advocacy and restoration of water quality and habitat are also strong program areas.
In addition, operating a functional and growing organization takes strategic planning and on-going fundraising. For FOFR to grow organizationally and as a watershed influence, substantial growth in financial resources are needed. FOFR continues to pursue a healthy diversity of funding sources through giving campaigns, membership drives, grants, service contracts, business partners, major donors, and special events like last year's canoe raffle, It's Our Fox River Day, and our annual No Clean Water No Good Beer fundraiser. But as important as financial support is, FOFR is largely powered by generous volunteers, who we recruit and organize, who do the real work out in the field, and as members of committees.
Big Plans for 2021
Three years deep into our strategic plan, we have just rewritten our committees' charge sheets. These are documents that guide each committee's specific work and actions.
Here are some FOFR 2021 committee priorities:
Communications – Redesign and improve website function, improve internal communications, and external communication through social media sources
Membership – Grow business partnerships, optimize the use of our new online membership management software
Education – Expand geographically and add new field and classroom activities
Executive – Add new board members
Schweitzer Environmental Center (SEC) – Resume regular programming, continue building maintenance and improvements, develop a bee sanctuary
Finance – Develop a funding plan to increase municipal service contracts
Help Wanted
We are actively seeking help with our operations on several levels. We have been very fortunate that EVERY new member who has become actively involved has made significant contributions to the vitality of FOFR through their new perspectives, skills, and energy.
For example, we have two recent additions to our organization: Katie is from Algonquin and an early high school graduate that has jumped into committee work, handling the Thursday Facebook posts and working on water quality research and education; Katelin from Batavia has quickly become a contributing member on two committees and is ready to work in education operations. Our growth is limited by our human resource base and there are multiple areas in need of volunteer help, from SEC maintenance, to event support, to educators, to committee members, to marketing, social media management and more. Please consider attending a board or committee meeting to get a feel for our philosophy and activities. Attending is still via Zoom which is more convenient for our large geographical expanse.
Spring is a Time of Rapid Growth & New Beginnings
We are gearing up in anticipation of engaging thousands of students in collecting water quality data, building an online "Storymapping" knowledge base, and sparking a sense of stewardship. Spring clean-ups will also begin soon. Planning is underway for summer's community events, canoe trips, fall fundraising, and September's It's Our Fox River Day.
As we look forward to signs of spring like flower blooms and frog calls, we hope you will contribute some of your spring renewal energy by joining us in growing FOFR. Give us a call at (815) 356-6605 or contact us at info@friendsofthefoxriver.org to arrange a discussion. Join us to "Keep on Fixin' the Fox."