August Green Drinks McHenry County – Regenerative Agriculture
August 7 @ 5:00 pm

-

7:00 pm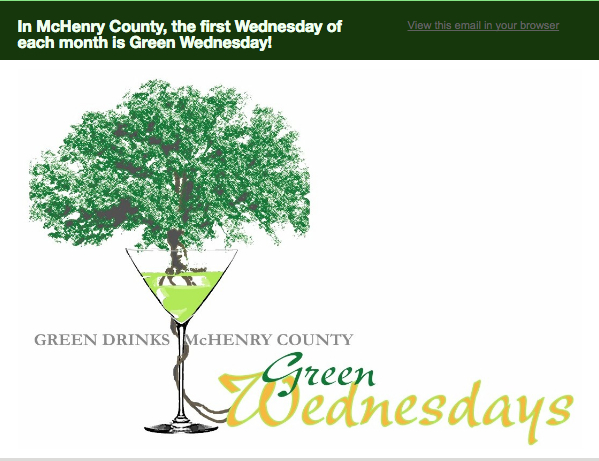 "Regenerative Agriculture and its Importance to the Environment on
a Local and Global Level." 
with
JOHN BARTMAN
John is a 5th generation McHenry County farmer.  His farm raises grain, cover crops and vegetables on 900 acres.   He will be speaking about Regenerative Agriculture and its importance to the environment on a local and global level.  Regenerative Agriculture is an approach to farming that aims to give back to the earth and leave it in a better place. It builds soil, increases biodiversity, improves water cycles and sequesters carbon.
DINNER TOGETHER!  Sign-up/order meal choice in advance of talk at 5PM during program check-in for dinner with the speaker, Green Drinks' committee members and others.  Dinner is at 7PM upstairs at Duke's. Seating is limited. 
Green Drinks McHenry County is organized by an independent Green Drinks Committee made up of volunteers and is co-sponsored by the Environmental Defenders of McHenry County and Duke's Alehouse and Kitchen. Www.greendrinks.org.  Visit The Environmental Defenders at www.mcdef.org and Duke's at www.thedukeabides.com.