November Green Drinks McHenry County – Green Infrastructure
November 6 @ 5:00 pm

-

7:00 pm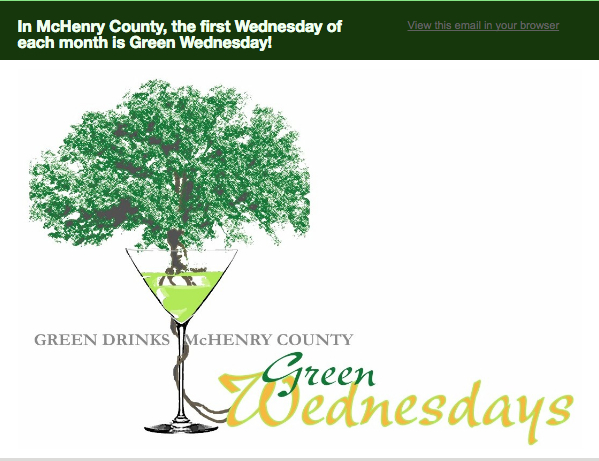 Green Drinks McHenry County is organized by an independent Green Drinks Committee made up of volunteers and is co-sponsored by the Environmental Defenders of McHenry County and Duke's Alehouse and Kitchen. Www.greendrinks.org.  Visit The Environmental Defenders at www.mcdef.org and Duke's at www.thedukeabides.com. On street and train station parking available nearby.
Presentation:
Tom Price, Senior Manager with Conservation Design Forum (now part of Environmental Consulting and Technology, inc.) will provide a brief overview of stormwater green infrastructure and present examples of green infrastructure practices integrated into public and private spaces including streetscapes, Chicago public school yards, and private commercial and residential developments.
PRESENTATION SUMMARY: Green Infrastructure stormwater practices such as bioretention gardens, green roofs, and permeable paving are gaining popularity in development circles. One of the beauties of GI is that it can be readily integrated into almost any landscape feature and density of development, allowing for higher levels of stormwater performance and resilience while also allowing more efficient use of land resources. Green infrastructure can also be readily retrofit into streetscape projects, public parks, school yards, and other public projects integrating beautification, stormwater quality improvement, and flood reduction into a single project.