Crystal Lake Green Drinks
April 4, 2018 @ 5:00 pm

-

7:00 pm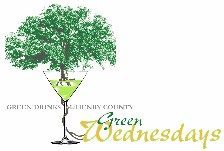 Guest speaker: SCOTT KUYKENDALL
McHenry County Water Resource Specialist, McHenry County Department of Planning & Development
 Water is necessary for all life, health and economic well-being.  Thanks to our unique geologic history, residents of McHenry County are able to enjoy access to safe, clean and affordable water resources.  However, this is only true if we continue to protect and preserve those resources.  In this presentation, Scott Kuykendall will explain where our water comes from, the amazing research that is being conducted across the county, and what you can do to protect our water for future generations.
Join the fun and info at Duke's Alehouse & Kitchen, 110 N Main Street in Crystal Lake. Head upstairs at Duke's for info and inspiration, business and pleasure. Come talk about "greening" the future with others. Must be 21 to purchase alcohol – non-alcoholic drinks are available, of course! Chef Zak always has a special complimentary hors d'oeuvre.
They have an information table set up and you are welcome to bring information about your green products and services each month to share.
Additional parking is available at the train station.