Fox River Summit 2023
March 16
@
7:30 am
–
4:30 pm
Click here to register, get tickets and for more information.
The keynote presentation is: A Watershed Management Approach to Declining Mussels in the Fox River Watershed.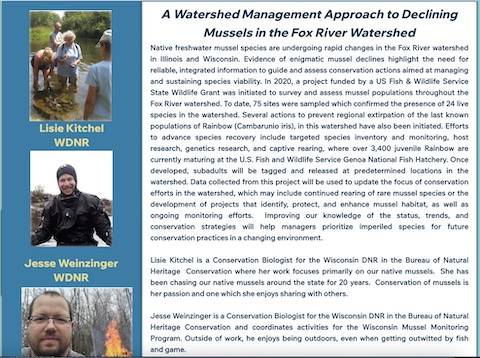 Friends of the Fox River President Gary Swick is scheduled to introduce Its Our Fox River Day 2023 and Friends fo the Fox River Director Jenni Kempf Schiavone is scheduled to present her video/photo presentation "River Trippin' with Jenni ."
Click here for the schedule for this year's summit.
The Southeast Fox River Partnership was formed in 1998 as part of a statewide Wisconsin Department of Natural Resources initiative that established 23 watershed based geographic management units Wisconsin major river basin. Members were selected to represent a wide mix of interests including federal, state, county and local agencies, nonprofit organizations and private sector business. The partnership was designed as forum where citizens, environmentalists, conservation groups, businesses and local governments could share resources, provide input to the WDNR and work toward common goals.