FREP Downstream
September 12, 2018 @ 1:00 pm

-

2:30 pm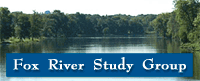 The Fox River Study Group (FRSG) often is asked, "is the Fox River water quality getting better or worse?" To answer that question, FRSG hired Illinois State Water Survey (ISWS) scientists to plunge into available Fox River data.
In 2002, ISWS created a database of water quality data collected in the Fox River watershed and they have been keeping it up-to-date since then. They have now studied all that data and will report on the spacial and temporal trends they are seeing in water quality for the period of 1998 through 2016. Come learn what they have learned.
The FREP Executive Committee will meet prior to the membership meeting at 11 AM.
All FREP Membership Meetings & Programs, and FREP Noon Networks are free and open to the public. Reservations are not required. Most Noon Networks accommodate us bringing our lunch to eat during the program.