FREP Noon Network – Keith Andres Memorial Park Stream Stabilization Project
April 10, 2019 @ 1:30 pm

-

2:30 pm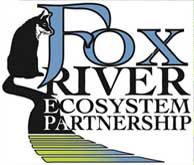 Presenters:
Jedd Anderson, CBBEL, Kevin Gray, Ed Szydlowski, Village of Carpentersville

Co-hosted by:

Jelkes Creek-Fox River Watershed Coalition.
The Village of Carpentersville recently was awarded a Section 319 Nonpoint Source Pollution Control grant from Illinois EPA to stabilize approximately 4,000 feet of eroding streambank along both sides of a 2,000-foot segment of Lake Marian Creek, a tributary of the Fox River (IL_DT-20), in Keith Andres Memorial Park in Carpentersville.
Streambanks will be stabilized through the installation of 26 pool/riffle sequence grade control structures (cross vanes), removal of a section of failing concrete-lined channel, regrading, stone toe protection, raising the channel bottom in some places and lowering it in others to achieve a consistent slope, filling in the downstream braided section of channel to recreate a single channel with proper morphology, and restoring two acres of adjoining riparian woodland by removing non-native vegetation (buckthorn), and performing long term stewardship.  The project will also include educational signage. Note: Another Noon Network will be scheduled following completion of this 2-year project to witness the transformation!
Following an overview of the project, Jedd Anderson of CBBEL and Ed Szydlowski and Kevin Gray of the Village Carpentersville will lead a field tour of the project site. Wear appropriate footwear and clothing for possibly damp and muddy conditions.
All FREP Membership Meetings & Programs, and FREP Noon Networks are free and open to the public.
Reservations are not required. Most Noon Networks accommodate us bringing our lunch to eat during the program.