Green Drinks McHenry County – Engaging Industries in Pollinator Habitat Conservation
September 6, 2017 @ 5:00 pm

-

7:00 pm
Event Navigation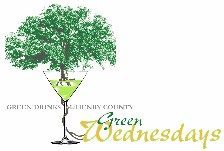 Join Green Drinks at Duke's Alehouse & Kitchen, 110 N Main Street in Crystal Lake. Head upstairs at Duke's for info and inspiration, business and pleasure. Come talk about "greening" the future with others. Must be 21 to purchase alcohol – non-alcoholic drinks are available, of course! Chef Zak always has a special complimentary hors d'oeuvre.
We have an information table set up and you are welcome to bring information about your green products and services each month to share.
Additional parking is available at the train station.
Program
Iris Caldwell, P.E., is Program Manager, Sustainable Landscapes at the Energy Resources Center (ERC) at the University of Illinois at Chicago. She facilitates the Rights-of-Way as Habitat Working Group and other efforts to engage industries in pollinator habitat conservation. She also provides technical assistance in the development of greenhouse gas offset projects and protocols, evaluation of renewable fuel production technologies, and mobile combustion emissions modeling.
With monarch butterfly and other pollinator populations in decline, multiple efforts have emerged to build cross-sector, collaborative conservation strategies. In Illinois, leaders from across the agricultural, urban, rights-of-way, and natural lands sectors formed the Illinois Monarch Project in 2016 to develop a statewide conservation strategy that aligns with other state and regional plans. The Rights-of-Way as Habitat Working Group is a separate initiative that is helping to drive conservation action among public and private organizations in the transportation and utility sectors and throughout the U.S. and Canada. This presentation will provide an overview of both the Illinois Monarch Project and Rights-of-Way as Habitat Working Group and discuss how these efforts relate to broader regional and national strategies to improve pollinator health and habitat.