McHenry County Green Drinks – McHENRY COUNTY CONSERVATION DISTRICT Celebrates 50 Years! via Zoom
April 7 @ 6:00 pm

-

7:00 pm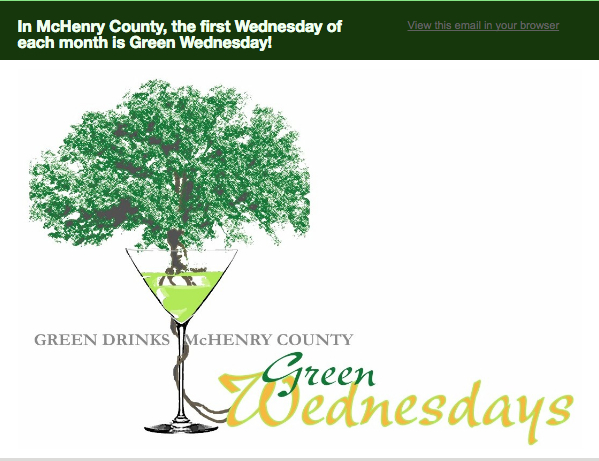 Presented by :
Carolyn Campbell, Trustee/Secretary and
Elizabeth Kessler, Executive Director
In celebration of Earth Day, join us as we explore the rich history of the McHenry County Conservation District since its inception in 1971 when residents of McHenry County voted by public referendum to establish the Conservation District under the Illinois Conservation District Act of 1963. The District's mission as determined and foreseen by these visionaries is to preserve, restore, and manage natural areas and open spaces for their intrinsic value and for the benefits to present and future generations.
Recognized locally, regionally, and nationally for its environmental and fiscal stewardship, the District, with the on-going support of the public and dedication of its Board of Trustees, staff, and volunteers, now protects over 25,600 acres of open space, provides wildlife habitat preservation, and offers educational and recreational opportunities for the citizens of McHenry County to appreciate and enjoy.
The presenters will highlight the District's origins, historical accomplishments, and environmental and fiscal stewardship; review the most recent county-wide community survey results; discuss the impact of the global COVID-19 pandemic on operations and programs; address existing challenges; and explore opportunities for the future.
Register in advance for this meeting with this link:
https://us02web.zoom.us/meeting/register/tZAtduGrrjkjG9doeICvukQZV1j4p-g90VgV
After registering, you will receive a confirmation email containing information about joining the meeting.
---
---
Green Drinks McHenry County is organized by an independent Green Drinks Committee made up of volunteers who plan the monthly lecture series. Www.greendrinks.org.
ORDER DINNER and join us on Zoom!  We encourage everyone to pick up a meal, curbside, to continue to support Duke's Alehouse & Kitchen!
Co-sponsored by the Environmental Defenders of McHenry County and Duke's Alehouse and Kitchen.  Visit The Environmental Defenders at www.mcdef.org and Duke's at www.thedukeabides.com.
Calendar powered by The Events Calendar