McHenry County Green Drinks – Monarchs and Margaritas
August 4
@
5:00 pm
–
7:00 pm
This is a hybrid event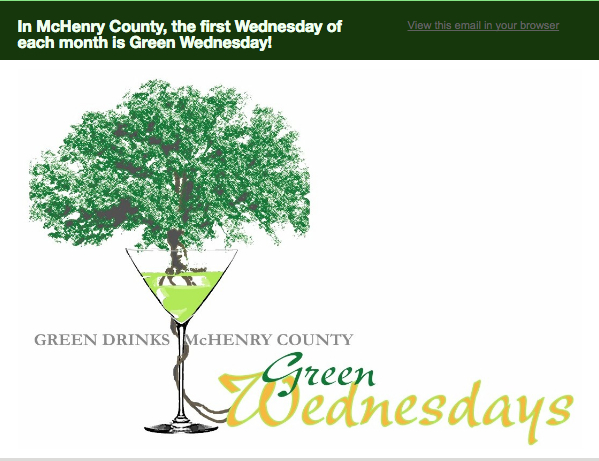 Presented by :
Vince Mosca, Ecologist
Find out about the interesting connection between the monarch butterfly and tequila as we celebrate the monarchs' return journey to Mexico.
Throughout the last two decades, the populations of these critical pollinators have crashed by 90% from habitat loss, agricultural practices and climatic factors. This program will discuss the incredible journey of the migration of monarchs from the US and Canada to the highlands of Central Mexico. Discover fascinating connections between Mexican cultural traditions, monarchs, and the tequila producing region of Mexico.
With the help of everyday people who create friendly habitats for monarchs, there is still hope for the monarchs' long-term survival. Learn how you can be a part of the solution from our August featured Green Drinks speaker Vince Mosca, Senior Ecologist of Hey and Associates, Inc. while enjoying drinks at Dukes! The program also will discuss information about our local Hackmatack National Wildlife Refuge and the importance of open space protection.
Vince Mosca has been an ecologist in the Upper Midwest for over 30 years, working for the local consulting firm Hey and Associates, inc. He's been involved in thousands of projects, including many natural area restorations and water quality enhancement  projects. His recent energies have been focused on the promotion of open space protection and public education through his position as a Friends of Hackmatack National Wildlife Refuge Board Member.
If you're joining us in person, you can look forward to a special margarita created by Chef Zak! In-person SOCIAL TIME begins at 5PM.
Important registration information:  This event is HYBRID. 

ATTEND IN PERSON (for those fully vaccinated)
Make your reservations for in-person here:
https://mcdef.us8.list-manage.com/track/click?u=8306c3ee86afc3dd451ac7497&id=0c4c6d15e8&e=884f6f07bb
---
ATTEND THROUGH ZOOM
Please use the link below to register if you are not fully vaccinated and/or do not plan to make reservations for in-person.  Thank you!

When: Aug 4, 2021 05:45 PM Central Time (US and Canada)

Register in advance for this meeting:
https://us02web.zoom.us/meeting/register/tZ0uf-mgqzMtGtb1yXpBQBTK-ToL9Xj9KcUX

After registering, you will receive a confirmation email containing information about joining the meeting.

If you have any questions regarding this event, please email Cynthia Kanner at defendersdirector@gmail.com.
---
Green Drinks McHenry County is co-sponsored by the Environmental Defenders of McHenry County and Duke's Alehouse and Kitchen. Visit The Environmental Defenders at www.mcdef.org 
 ORDER DINNER and join us on Zoom!  We encourage everyone to pick up a meal, curbside, to continue to support Duke's Alehouse & Kitchen!
Co-sponsored by the Environmental Defenders of McHenry County and Duke's Alehouse and Kitchen.  Visit The Environmental Defenders at www.mcdef.org and Duke's at www.thedukeabides.com.