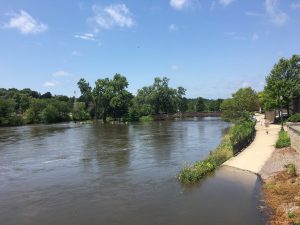 by Gary Swick

Rivers and their tributaries usually have seasonal cycles of spring and fall flooding, with a "low flow" condition in summer. Flooding has benefits to the natural river system through nutrient distribution and scouring of sediment. The land areas that absorb the flood conditions are referred to as flood plains. Land use planners have learned that building in these areas come with risks. Building walls has all too often been the strategy for flood control. Contemporary thinking is more like a return to pre-settlement conditions; restoring flood plains with beaches (gradual slope) and deep rooted vegetation. Nature really does know best.
It should be noted that we have significantly increased the Fox River's flows with our own contributions. Aside from Elgin & Aurora, communities harvest their municipal water from underground. After our individual use, these millions of gallons per day go into the sanitary sewer system and are discharged into the Fox River. This is not part of a natural cycle, and adds to the problem.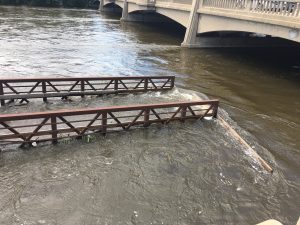 This summer's flood is unusual. The rains came in large amounts, in quick bursts, and repeatedly. We have taken a watershed capable of absorbing such events, and made it vulnerable with roads, roof tops, and parking lots that concentrate the resulting volumes. With the climate in chaos, such storms seem to be the new normal.
Sadly, many of our neighbors have suffered property damage and the terrible resulting conditions. See cleanup recommendations from Kane County at: http://www.countyofkane.org/Recycling/Documents/KaneCountyDisasterDebrisManagementGuide_July2017.pdf