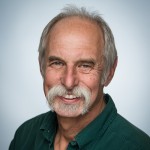 My Gmail automatically adds the following below my signature: "Spreading the Peace with the Planet Virus". Things such as bacteria, viruses, and fungus usually don't bring about positive, or warm and fuzzy feelings. But these organisms are essential for ecosystem operation. Bacteria grab nitrogen from the atmosphere for soil fertility. Fungus growing on your wood deck is not so great, but I like certain kinds of them on my pizza. Fungus are key in the role as decomposer to complete many natural cycles. My application of the virus metaphor is to positively infect with knowledge and spirit to "Create a Watershed of Caretakers."
I have had a long and wonderful career as a formal and informal educator. My "trophy room" of cardboard boxes holds local, state, and national awards. None of those awards came without the help of my students' efforts in project implementation. Together we have accomplished some incredible achievements. But all the recycling, restoration, and river studies came to a conclusion for the students as they moved forward on their post high school paths. These students may have left the halls of Dundee Crown High School, but they left like metaphorical hosts carrying the virus of being a caretaker.
An artist creates a tangible piece, a designer designs a product, and a coach creates a season's record. The teacher creates an investment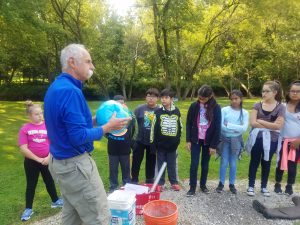 and hope.
I stayed in the Fox River Valley for my entire career in education. Consequently, occasionally I cross paths with my alumni. My long-term memory is far better than my short term, so sometimes I can call a graduate from 20+ years ago by name before they can shout "Swick." The conversation usually begins with what we did, how much fun it was, and a sincere question "did it continue?" The projects have concluded, but our conversation often reveals that their caretaking virus is still alive.
Classroom teachers have a huge responsibility. With just a few words they can crush the confidence and dreams of a child. I know several friends who strayed away from music and art fields due to harsh criticism from a grumpy teacher. But teachers can also ignite a connection and passion that was lying dormant inside a child's heart. I am fortunate that I was usually able to be patient and bite my tongue when anger was my shadow. And I have much gratitude for the many opportunities where our fieldwork sparked a student/earthling's connection to the natural world. "Biophillia" is the need for nature. I tried to offer students that prescription through an educational setting. We called it "Education for Environmental Action."
Well, I can report that in just one week's time I have evidence that the caretaking virus is alive and well in the Fox River Valley. For me, as a teacher, nothing rivals the feeling of having an alumnus become my equal as a colleague.
On a recent Monday our "Watershed Watchdog" outreach educators were double booked with students scheduled to do water quality testing in two different locations. I was called  into service as a Friends of the Fox River Water Quality Monitoring Network educator, a role I wholeheartedly enjoy, but I try to allocate that job to others these days.
Our lead educator is Jenni (Kempf) Schiavone, a DCHS grad. Jenni and I now work almost daily on operations, therefore in some field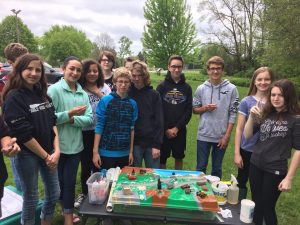 situations, she is my supervisor. Back to Monday, we were understaffed for 100 5th graders from Deerpath Elementary in Cary. In a desperate long shot, I reached out to Mike Tanner, another DCHS graduate and University of Wisconsin – Stevens Point product (I'm class of '76, he is 2011). He was in Denver on that Saturday, but could assist us on Monday. Not only did I hook a warm body, but he also had just received the NIU Student Teacher of the Year honor. Being crewmates was truly a thrill for me. We even dressed alike in our vintage "Keep on Fixin the Fox" T-shirts!
Wednesday was another double booking, so I was excited to head to Ferson Creek to enjoy the challenge of "infecting" 9th graders from Aurora East High School. I headed up one of five teaching stations. Who was running the restoration station? Of course it was a DCHS & Stevens Pointer, Peter Dall. He has been with the Kane County Forest Preserve District for 15 years and usually does the heavy lifting, but he has educational experience as well. His last semester at DCHS he had three classes with me – a situation prime for "infection."
A big part of the Friends of the Fox River "Love Our River Day" celebration this year is the standard cleanup. For the Elgin cleanup, which was cancelled due to bad weather, we were being included in the Living Lands and Waters, Adopt-A-River Mile initiative. Who was set to bring the gloves and bags all the way from the Quad Cities? Esteemed DCHS/Stevens Point (class of 2013) alumna, Meghan Elgan was. She is an educator on the Living Lands and Waters classroom that floats on the Mississippi River. She was set to come bearing gifts and good will as a partner organization and would-be an educator that day.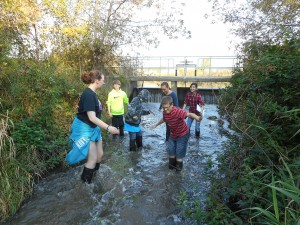 The next week, Friends of the Fox River hosted District 300 Golfview Elementary's entire 5th grade class for a field day at Schweitzer Woods. I usually have NIU students run this, but the semester had ended. It is such a valuable experience for those students that I had to find a way. Mike Tanner again volunteered along with Brandon Combs, another DCHS grad that is new to Friends of the Fox River as a committee member. Brandon has relocated in the Fox River Valley and brings along his geology background.
Four "virus" hosts have come back into my life within a week. I am very proud to be their colleague in these environmental education events. This is how we continue to "Create a Watershed of Caretakers," with a second generation of "virus" spreaders. I'm hoping that stewardship for the Fox River goes "viral."