By Gary Swick
From time to time we profile one of our Business Partners. As our largest fundraiser, No Clean Water No Good Beer is successful partly due to its great location: Bandito Barney's Beach Club and Bordello in East Dundee. It has been rated as the #1 beer garden in the Northwest suburbs and Banditos has an interesting story.
Twins, Thom and Tim McNamee were once young nature-loving scouts growing up in the Dundee area. Always fun-loving and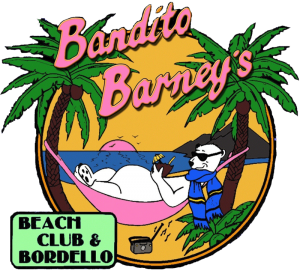 entrepreneurial, they both became very successful and community-mind young men. Sadly, both have passed away.
They rehabbed a dilapidated bar at the corner of River and Jackson in East Dundee and named it "Wall Street, Inc". Even prior to the founding of Friends of the Fox River they had an annual river clean up tradition.
On one occasion, I assisted Thom in freeing a swan from being entangled in a half-submerged shopping cart. Our love for the river made us friends, and later he became a generous supporter of Friends of the Fox River. He had a dream of a local Science Education Center; which his family is still actively pursuing. The site where the swan was rescued, became the Timothy R McNamee Park as a gift of the family to their hometown Carpentersville.
In the 80's, Bandito Barney's Beach Club and Bordello was born on a napkin drawing from an inspiration that Thom got while modeling in Japan. Tim and Thom created the story and "Bandito Barney's Beach Club and Bordello" was launched. The Beach Club completed the concept with its sand floor, pond, and bar shack. Bandito's beer garden became the cool place to hang out in East Dundee.
Evolution
The next chapter also involves two community-minded family members. On 12/26/2012, Roger Shelton and his father, Lowell Nabor purchased Bandito Barney's from the McNamee Trust. For Roger, this had been his neighborhood bar. Roger modernized the entire beer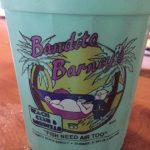 garden including heated floors, a giant fireplace, year-round and ADA accessibility with a new look featuring timber construction and huge bar with a tree slab top. Mr. Shelton kept the original feel and the establishment's signature reusable and dishwasher safe green plastic cups still read: "Fish Need Air Too".
Sales have tripled since 2012. Profits from Bandito Barney's are reinvested in community and charity projects. They have purchased several adjacent properties for expansion, and to support parking and other businesses in the East Dundee dining District. They sponsor the Thom McNamee Memorial St. Patrick's Day Parade (from which the FISH Food Pantry and Friends of the Fox River receive generous donations), and they provide the fireworks for that weekend. Their charitable contributions are national through the Boys & Girls Club and international in providing access to safe drinking water.
It is now considered a premiere beer garden in the Northwest suburbs. When you visit, you can expect spacious accommodations, attentive and cheerful service, a full menu connected to an experienced kitchen, daily drink specials, music on the weekends including Sunday afternoon in the summer, and a fun atmosphere.
Please join us at Bandito Barney's Beach Club and Bordello for our annual fundraiser, No Clean Water No Good Beer on August 5th.