By Jenni Schiavone, Friends of the Fox River Lead Educator
Batavia residents and Friends of the Fox River members Maureen and Larry Huey recently took a giant leap. These passionate and active environmentalists invested in the conversion of their entire Fox River waterfront property from mowed turf to native plants. Maureen and Larry's inspiration came from their involvement with stewardship activities as members of Fermilab Natural Areas, an all-volunteer organization that assists Fermilab in restoring the natural areas on the Batavia campus.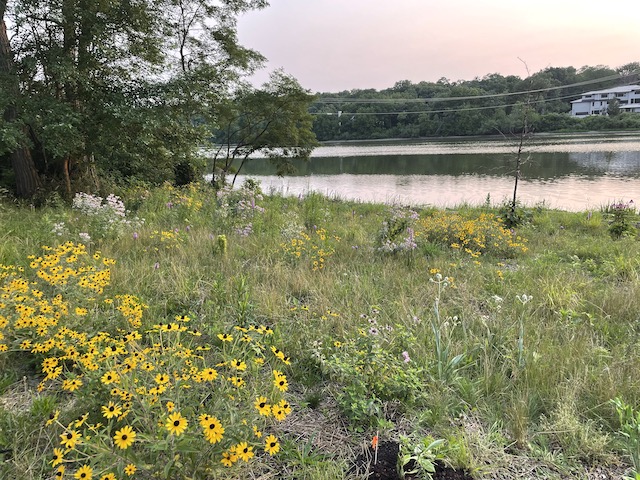 The Hueys' challenge was no small feat: 15,000 square feet of lawn and shrubby riparian area were slated for conversion to native plant areas. Although Maureen and Larry were involved every step of the way, at the helm of the project was Green Guerrilla, a Fox Valley leader in eco-friendly land management. Based out of Elgin, Green Guerrilla provides multiple services ranging from native plant area design, installation and maintenance, to chemical-free and low emissions turf care.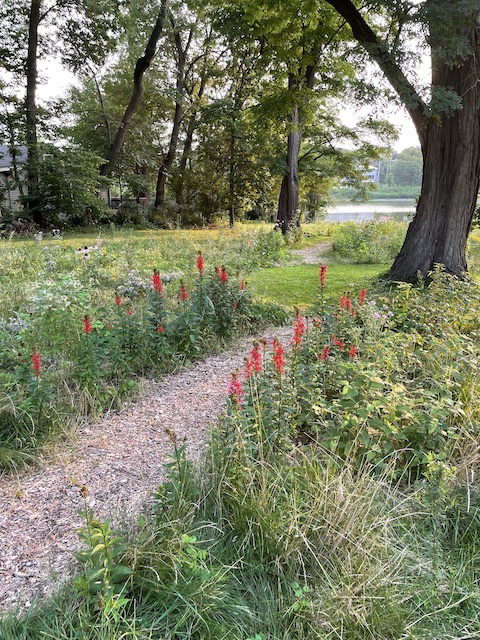 The Hueys' property offered tremendous opportunities to incorporate biodiversity into their native garden areas. The parcel was divided based on the amount of available sunlight and soil conditions and includes representation of woodland, prairie, wet meadow, and riverbank areas. Care was taken to select plants based on bloom time, light needs, height, moisture needs and propensity to provide erosion control. The result is the representation of over 50 different native plant species. The property now provides stormwater management and groundwater recharge, diverse food sources for pollinators and migratory birds, and erosion control reducing siltation during flood events.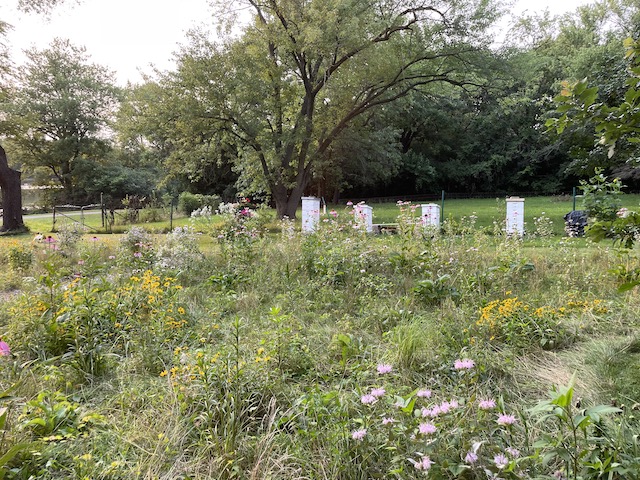 What's the Hueys' secret? What factors contributed to the Hueys' decision to say goodbye to their mowed monoculture lawn and "go native"? They are no strangers to hard work and contributed their labor and expertise over the entire course of the project. Larry and Maureen's continuous efforts were the true hallmark of the project, a humble representation of the essence of environmental heroism. When we asked Maureen about her decision to end each day with dirty hands and a sore back, Maureen's simple response was that she and Larry wanted to "take ownership" over the project from concept to execution. The lesson here is embedded in the simple, powerful question that we can ask ourselves: what can we do to take ownership of our local environment? Thank you Maureen and Larry Huey for being Friends of the Fox River.
If you have a "take ownership" story, please share with us at info@friendsofthefoxriver.org