The valuable hands-on outdoor education experience
Friends of the Fox River educators had a busy summer partnering with the Boys and Girls Club of Dundee Township for "Outdoor Explorers", an outdoor education enrichment program as part of the agency's summer camp. FOTFR provided hundreds of learning experiences in the local environment: on school campuses, at field-trip destinations, and paddling trips on the river. Learners ranged in age from 9 to 14 years old, involving 7 Dundee Township elementary schools and 1 middle school.
FOTFR knows that education is the most effective tool for environmental protection. We also know that over the course of our lifetimes, most learning takes place outside of formal settings. The Outdoor Explorers visited new places and had tools and materials in their hands during each session. They used binoculars, painted rocks with acrylic paints, planted maple tree seeds (after watching them whirl around in the wind, of course), and even touched cactuses.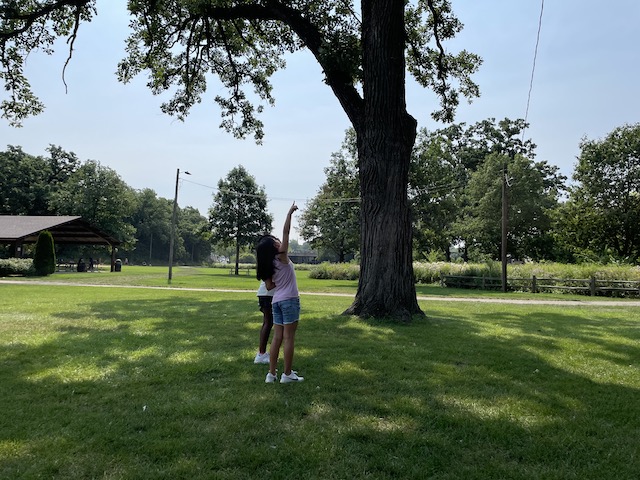 For kids now, after over a year of spending large amounts of time in virtual settings, the value of hands-on experiences is tremendous. For example, one of the activities we revisited a few times with the Outdoor Explorers was the use of forceps, a.k.a. tweezers. Learners started by sorting small candies by color into separate containers to practice the actual physicality of using the tool. Then they used forceps to pick up delicate seed material, knowing that many other groups would be using the same material later that day, or the next. By showing responsibility and skill, they were then ready to use the forceps to handle live animals, so we brought in mealworms. After 15 minutes of observing how the mealworms moved, what their undersides looked like, and practicing the gentle act of picking them up and setting them down, we knew learners would be well prepared to examine macroinvertebrates from the creek bottom during their upcoming field trip to Crystal Creek in Towne Park of Algonquin.
If you unpack the value of the hands-on experience of using forceps for kids, it is easy to see how important hands-on learning really is. Consider this breakdown of the dimensions of learning that took place through the simple activities that involved this tool:
Physical: exercising fine motor skills (a steady hand is critical on a future scientist's or artisan's bench)
Social: shared tools and materials necessitated appropriate use of both. In other words "I care about other kids enjoying this too, so I will show respect."
Ethical: handling delicate animals with care demonstrates that all life is valuable and worth protecting.
Intrinsic: examining small living things up close contributes to the awe and appreciation of the natural world.
Each experience was tied to a book with an environmental message that we read aloud together. The literacy connection was encouraged by all-star FOTFR volunteer Michelle Soland who contributed greatly to the program's success in all aspects. "Outdoor education is critical for students who too often are spending the majority of their time online. From week one to week six we saw more and more kids engaged, asking questions and pointing out things of interest that they noticed outside. They made connections, got exercise and fresh air, worked on teamwork and shined," shares Michelle. Michelle is a retired 3rd grade teacher who taught at Perry Elementary School, one of the 7 participating elementary schools. In her retirement, Michelle has supported FOTFR education for several years with her time, expertise, and donations. Thank you, Michelle, for all that you do!

As meteorological summer winds down and fall begins, signaled culturally by the start of school and reintroduction of pumpkin-spiced everything in the shops and cafes, it's valuable to reflect on the experiences of summer. Our goal for the Outdoor Explorers was simple: to get kids out experiencing the natural world. Whether it was the young teenagers out on the water in Friends of the Fox River canoes, or the elementary schoolers wiggling around in Crystal Creek collecting critters in nets, the experiences were real and the connections made to each other and the outdoors were perceivable. Learners that were unwilling to even look at bugs in June, left camp shielding ants from stomping shoes in July. Although difficult to quantify, we witnessed growth and change because of these facilitated outdoor experiences. What cause is more worthy than that?
"Miss Jenni?" said one Outdoor Explorer on the last day of camp
"What's up Bud?" said one worn out Outdoor Educator.
"Is it me, or does that tree look like it needs a hug?"
And he did just that.