Meet Richard Wilson, Friend of the Fox River and Friend to all of Earth's inhabitants. Richard is spearheading a brand new Friends of the Fox River (FOTFR) service: fishing line removal and disposal from snags between West Dundee and Elgin.
Richard has engineered and assembled all of the tools and equipment needed to remove and properly dispose of the fishing line, lures, and sinkers left behind in tree limbs and around rocks. These virtually invisible, unnatural webs of human debris in the air and water pose a deadly threat to wildlife from entanglement and accidental ingestion. A simple internet search quickly reveals heartbreaking images of bird beaks wound shut, injured and deformed wings, and other aquatic animals hurt and immobilized by the unintentional traps these materials create. To make matters worse, the consumption of even one lead sinker by waterfowl mistaking it for a rock or bug can be deadly.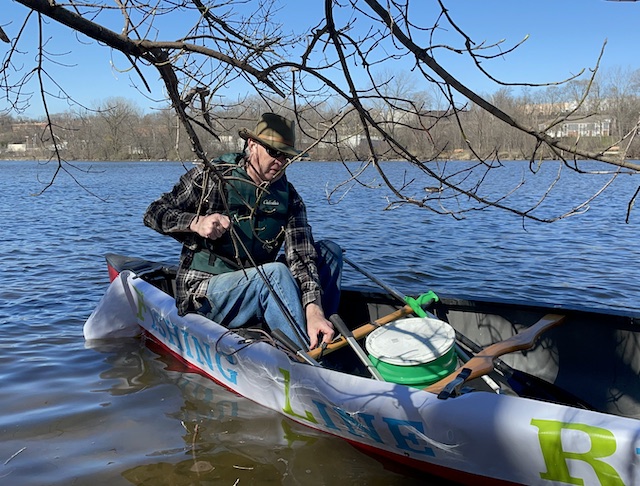 Passionate about Compassion
If it seems like Richard has a deep ethical responsibility to protect wildlife and wild places, you are spot on, and he has spent decades doing it. Prior to and during the years of his involvement with the Friends of the Fox River, Richard has been an educator and naturalist at Elgin Math and Science Academy after retiring from teaching preschool on the same campus when it was Chicago Junior School. On a daily basis, Richard actively works with the Board and staff to ensure that the rare and fragile ecosystem that the school buildings share is studied and protected by the entire campus community.
Office Hours for Richard
As the school year winds down and the weather warms up, boating and paddling season are upon us. Richard told me he can't think of anything he would rather do on warm spring and summer days than spend a few hours paddling along the edges gathering up monofilament fishing line and tackle for his wildlife friends. He also plans to talk to community members about why he is providing the service and ways river users can be good stewards of the spots they enjoy. However, there is no need to wait for Richard to arrive in his rescue canoe to clean-up fishing spots. All of us have a responsibility to leave natural places better than we found them.

If you do see a tangled mess of fishing line that is unreachable between West Dundee and Elgin, Richard would like you to use the "Hot-Line" and give him a call anytime to report problematic areas. He can be reached at 224 828 2006.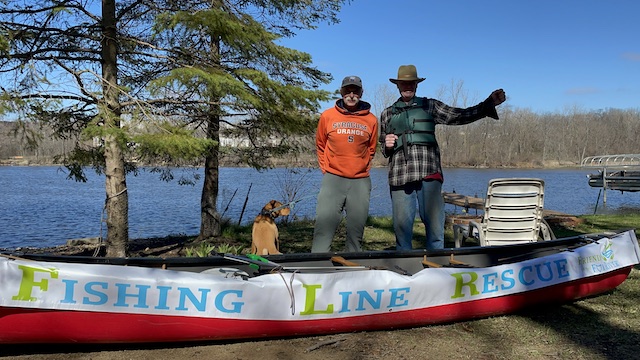 Bon Voyage Richard
With his tools stowed away snug in the Fishing Line Rescue Canoe, and paddle in hand, Richard shoves off for a work session near the shoreline in Elgin. As his silhouette shrinks and the canoe's wake disappears, Richard's words resound in my memory as I recall the first exciting conversation we had about his idea. When I told him about featuring him Watershed Weekly, he made sure to tell me the simple, important message that he wants to share with readers:
"Everyone can do something. Even if it is a small thing, you are doing something and it helps everyone. Collectively we are all making a difference." Bon Voyage Richard, see you in the stream! Thank you for being a Friend of the Fox River.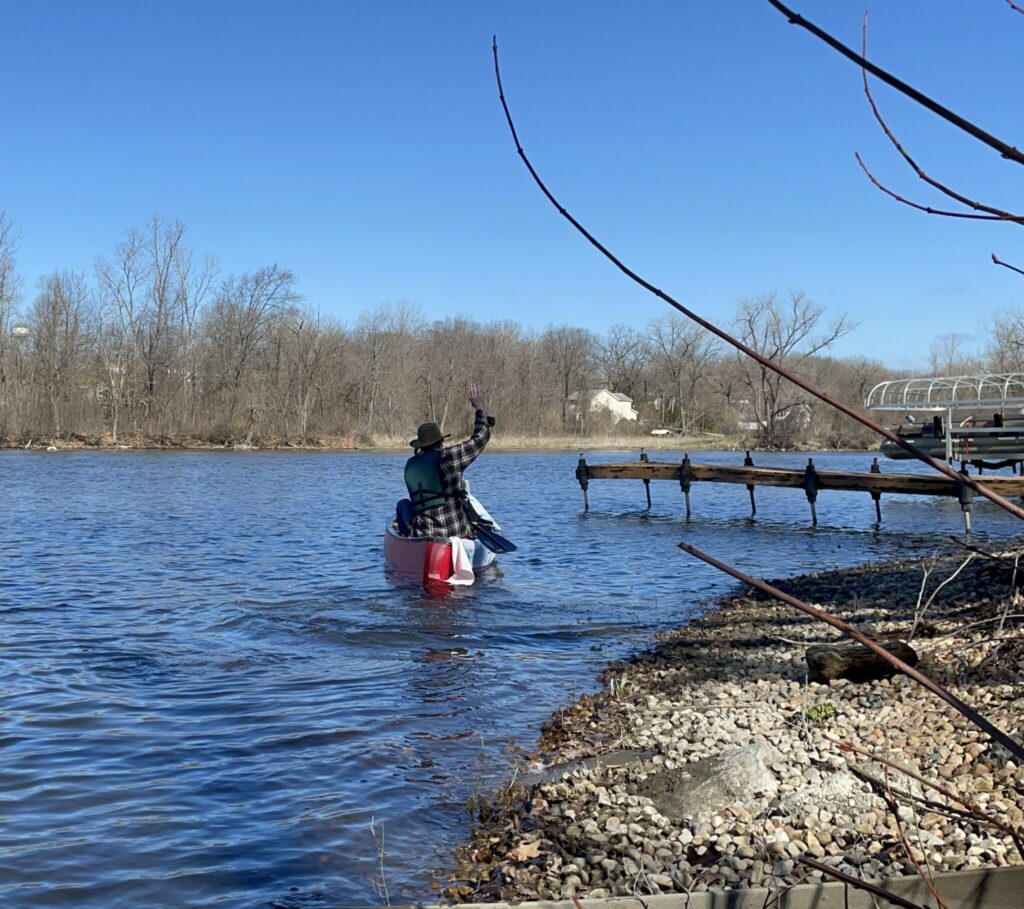 If you have a "take ownership" story or want to join our team, please email us at info@friendsofthefoxriver.org.