With the on-going mission to build a watershed of caretakers, Friends of the Fox River (FOTFR) continues to grow their organization and influence on protecting water quality in many ways. To do that takes many different strategies and always trying new things. August has been a very busy month, much of which was new to FOTFR.  On August 13th, Saturday, board and staff members had a second new experience by participating in an organizational problem-solving exercise on a farm. A pig and horse were the consultants. We learned lessons on messaging river restoration/dam removal, internal communication, and being more inclusive in our efforts. Look for some new-style events coming to the FOTFR calendar.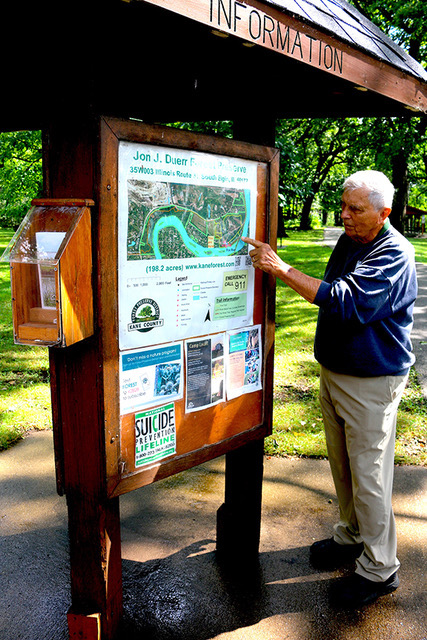 FOTFR just completed its first ever Friends-Only event. Normally all events are open to the public, but FOTFR wanted to offer its financial supporters a very special event. Attendance was limited and by invitation only. With imminent rain in the forecast, 30 loyal Friends gathered at Jon Duerr Forest Preserve to meet a living legend, Jon Duerr. Jon welcomed the group inside a picnic shelter, as light rain began. His main message was about our sense of place, right where we were at a Forest Preserve site named after the alive and well, Jon Duerr. Jon went back over 15,000 years to describe how glaciers carved the valley with torrents of 300-foot-deep Fox River from glacier meltwater. He brought the group forward to 500 years ago, and described the relationship between different Native American populations and the land, and stories about the later relationship with the European settlers and United States government's militia.
Jon was assisted by David Schoenknecht, a local certified naturalist and professor. David continued the conversation about Native Americans and river geology. The audience of supporting Friends were primarily river-history enthusiasts, yet everyone learned new things. After fielding questions, the rain ceased upon cue. The group split with half following Jon for a walking component full of botany-focused examples, and the others accompanied David for tour along a retired gravel pit to a monument site. The groups joined en route, and switched leaders.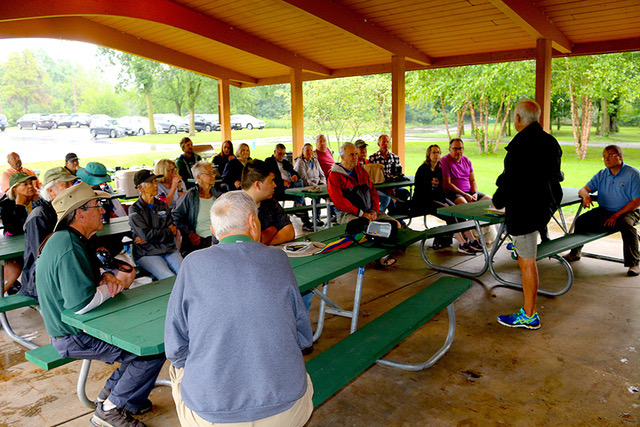 It was another first for FOTFR to provide a picnic lunch for its guests. Rosie O'Hare's Public House provided a tray of their heralded pulled pork. The sliders were accompanied by salad, veggie wraps, watermelon, cookies, and beverages. What made this picnic special was its zero-waste theme. Nearly every unconsumed material was collected for washing, recycling, or composting. FOTFR wanted to walk their talk with making conscious choices that impact our planet.
FOTFR welcomes anyone who acts in support of their work into the organization as Friends. However, those Friends who offer FOTFR financial support are essential for contributing the resources necessary to provide the many FOTFR services throughout the entire watershed. We hope all our Friends will offer whatever financial support that works for them when they can. And that FOTFR will see you at next year's supporting Friends invitation-only event.
All photos contributed by Don Purn