5th Annual Fox River Summit 2017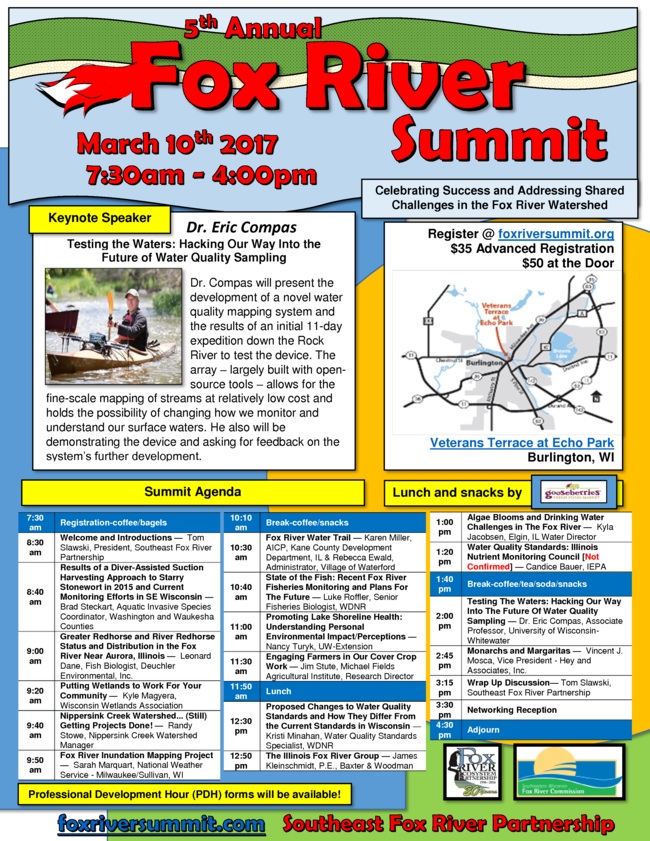 The Southeast Fox River Partnership presents
Fox River Summit:
Celebrating SUCCESS & Addressing Shared Challenges in the Fox River Watershed
KEYNOTE PRESENTATION
TESTING THE WATERS: HACKING OUR WAY INTO THE FUTURE OF WATER QUALITY SAMPLING
by Dr. Eric Compas, Associate Professor, University of Wisconsin-Whitewater
Dr. Eric Compas is an Associate Professor in the Geography, Geology, and Environmental Science Department and Director of the GIS Center at the University of Wisconsin-Whitewater. He also serves as a Board Member on the Rock River Coalition. His research interests include interactive web mapping, environmental policy, and protected areas.
Dr. Compas will present the development of a novel water quality mapping system and the results of an initial 11-day expedition down the Rock River to test the device. The array – largely built with open-source tools – allows for the fine-scale mapping of streams at relatively low cost and holds the possibility of changing how we monitor and understand our surface waters. He also will be demonstrating the device and asking for feedback on the system's further development.
CHALLENGES
Building upon the success of the first Fox River Summit that culminated with a unanimous declaration adoption by all attendees present, we are proud to announce that the fifth annual summit will be held on March 10, 2017, and will continue to build alliances, share ideas and issues of concern in the Fox River watershed. Review the declaration here: final-declaration-fox-river-summit-2013.pdf.
Read the Wisconsin Natural Resources Magazine article on the Fox River Summit.
Meeting objectives:
Share new tools and practices being developed to protect the Fox River watershed among communities in Wisconsin and Illinois.

Continue a dialogue on shared challenges concerning recreation, economics, sustainable flows, surface water/groundwater interactions, sediment and ecosystem services.

Build trust among stakeholders and identify commonalities, project successes and future challenges within the watershed.