By Brandon Combs and Jenni Schiavone
Friends of the Fox River Second Saturday Outdoor Adventures is a new program initiative we're starting this year. We hope this monthly program will engage young community members and their families in regular outdoor educational activities as we explore the Fox River's watershed. We are proud to report that our first event was a roaring success!
Despite forecasted snow, rain, and cold on Saturday January 11th, Board members, staff, and volunteers welcomed over 20 grown up and little people to the Schweitzer Education Center (SEC) for the inaugural Second Saturday Watershed Family Event.
The youngest learners in attendance were toddlers. Young and old enjoyed the exploring the house and its unique spaces before convening as a group for the day's activities. FOFR's Lead Educator Jenni Schiavone kicked off the event by leading an indoor watershed model demonstration capturing the attention of even the youngest guests.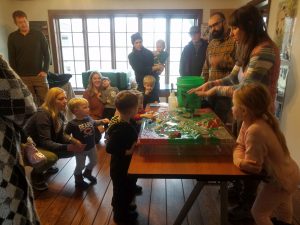 Make it Rain!
Each child contributed to the model by adding toy houses, cars and factories to represent various sources of water pollution. Then the kids made it rain with a spray bottle.  Learners were able to see the spray bottle rain carries runoff pollution, and understand how, just outside the house, water running downhill can carry bad stuff into the Fox River. Delicious hot cocoa and snacks kept our young crew happy and energized!
Take A Hike!
Next almost every guest was more than willing and excited to brave the cold temperatures and take a short hike around Schweitzer Woods. Geologist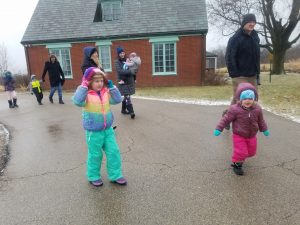 Brandon Combs led the group to the highest point of the forest preserve so they could see firsthand the watershed they had just modeled and learned about inside. The hike also included a brief history of the geology of the area and stops at several underground springs.
Our next Second Saturday event on Feb. 8th from 11 am to 12:30 pm will again be held at the SEC.  This month's topic will be Oak Trees and will include both indoor and outdoor hands-on activities.  Although SEC and Schweitzer Woods have countless features to host these events, Second Saturday programs will travel around exploring all our unique and beautiful watershed has to offer! Below is a list of some of the locations and activities outside of SEC that we are planning. Check our website's calendar for future Second Saturday meet-ups!
Upcoming Second Saturday Adventures
Raceway Woods hike
Jelkes Creek Bird Sanctuary bird watching
Brunner Farm tour and walk to the river
Canoe to picnic on a Fox River island