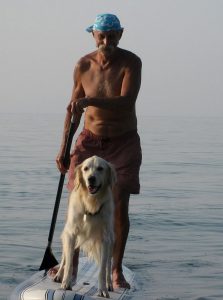 By Gary Swick
The debate over whether to choose a plastic or paper bag is pretty even when comparing their environmental footprints. However, in considering a few particular situations like holding wet items for example, or the bag's likelihood to become long term litter, the choice is a different story. The choice of canoe or kayak is similar. I recommend a canoe for a variety of reasons.
On Monday, August 10th, you could be the raffle winner of a magnificent canoe. The Friends of the Fox River (FOFR) watershed education program is the winner too from the ticket-sale proceeds. As a canoe owner, you will enjoy moments that cannot be experienced in any other way. Please buy some chances now to increase your odds and support FOFR programs. You should be in this canoe!
Memory Maker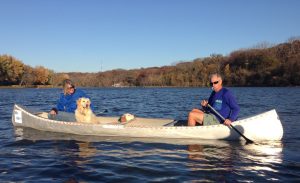 My history of being a paddler is long and filled with professional and personal memories. I prefer kayaking when I am seeking an individual experience, but the real joy on the water comes from sharing it. I have had dogs, children, hundreds of students, and thousands of others with whom I have shared moon-lit passages, wildlife surprises, navigational challenges, and triumphs that are now countless lasting memories.
These memories could not have been achieved any place other than on the water. I have introduced very nervous skeptics to a canoe seat and paddle, and have seen them exit from that trip with a huge smile and readiness to go again soon – a true personal growth experience. You should have this canoe so you can create lasting on-the-water memories like these whenever you want to.
Ancient Access
Canoe travel is historic on the Fox River. It was the vessel of choice for the native people, and the European explorers and traders that first ventured here. The first Europeans to visit Illinois were French explorers, Louis Jolliet and Jacques Marquette, in 1673. Their "voyageur" canoes were built for multiple passengers and large cargos. Reenactments of their expeditions were still common until only a few years ago, but sadly, those hobbyists and performers are now steadily departing. Two local heroes, Jim Phillips and Ralph Friese, were two of those legendary characters. A canoe will allow you, too, to be an explorer.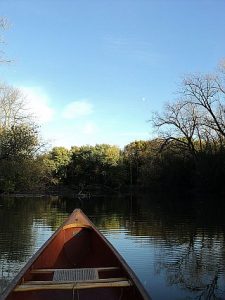 I respect that the Fox River is a public waterway and everyone has the right to enjoy it, and that there are many different ways to do so. I have an on-going challenge in winter of sharing my quiet cross-country skiing terrain with snowmobilers. So, too, are the summertime sounds of nature broken by powerboat enthusiasts and jet skiers. We are all colleagues on the water and cheerfully greet each other. But our experiences are far different.
A silent paddle craft has no impact upon water quality, shoreline erosion, or wildlife disruption. Also, a canoe can explore places not accessible by the limitation of a motor. In a canoe, you can travel close to the shoreline and sometimes, from the river up into creeks to explore places where few humans ever go. You can even hoist one upon your back and hike it across terrain for deeper exploration. The initial canoe purchase is pretty much the only expense. Your fuel is your food's caloric load, and maintenance costs are usually very limited or none. For what a canoe offers, it is a bargain as a watercraft.
Canoe Connections

A canoe ride also involves connecting to your canoeing partners. This is often an initial challenge. Novice canoeists often struggle to work together. Some say it is the true test of a marriage. The bow and stern positions have somewhat different responsibilities and require different paddling techniques. Learning to work together is like dancing. Often awkward at first, but with patience, communication, and practice, the look and feel of unity is often quickly realized.
It is this working as one that puts canoeing above kayaking in my experiences. That is also why I have highly valued canoeing as an important experience for students. Canoes are not just a vehicle for exploring nature, they help us explore ourselves. Regardless of age, culture, economic status, or political beliefs, a canoe can enrich your life. That is why you should have a canoe.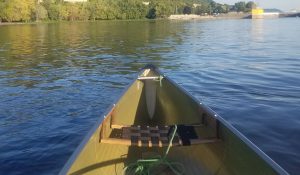 The mission of the Friends of the Fox River includes "connecting people to nature." A canoe is an exceptional vehicle for that. Looking at the river from a car, a bike, or even right on the shore does not compare to being on it. Feeling the support, gentleness, and flow is unique. A canoe offers a unique perspective and access to a place of peace. Traveling by canoe creates a sense of accomplishment from successful navigation and all that the journey entails. A canoe always offers a feeling of being part of nature.